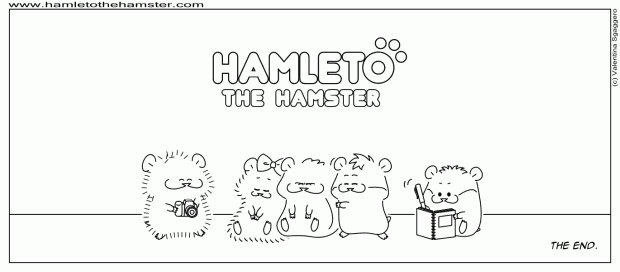 Ok, guys, this is it.
As I said before
, from now on I'm not going to update regularly Hamleto anymore.
However, I may post some strips now and then, so keep an eye on
Hamleto's feed
if you want to know if there's something new.
You can also take a look to
my Twitter account
or
my Facebook page
. If I make anything Hamleto-related, I'll let you know there :-)
And now, for some thanks.
I sincerely thank all the people who followed Hamleto this far, who supported me, who let me know they appreciated my work and encouraged me to keep going. There's not much I can do but say a very big 'Thanks!' to all of you.
And for all the people who are sorry about this, I say don't be sad.
Hamleto, Orazio, Laerte, Ofelia and Polonio will surely come back someday :-)
See ya!
TYN